Can you print on other envelopes not found listed in your printed envelopes section?
There are literally thousands of different types of envelopes. While we look to showcase a very wide selection in our online store, such as:
Simple Seal
Simple Seal Window
Commercial
Invitation
Booklet
Squares
Open End
Booklet Peel & Seal
Remittance - Donation
Security Tint
It is impossible to list them all online. At 4OVER4.COM, Go Custom ! We have thousands of custom sized and specialty envelopes such as:
Coin Envelopes
Gift Card Envelopes
Currency Envelopes
W-2 Envelopes
Full Faced Window Envelopes
No Glue Envelopes
Tyvek Envelopes
Button & String Envelopes
Just to name a few
We also sell social announcement envelopes in hundreds of standard and exotic colors, such as kraft, black, blue, red, pink, violet, lilac, moss, nude, canary, orange, green, you name it.
At 4OVER4.COM, we take pride in having your project come to life. Don't see what you are looking for in our printed envelopes section? No Problem ! Simply contact our Support Team with the specs of your custom envelope and we will look to bring your project to life.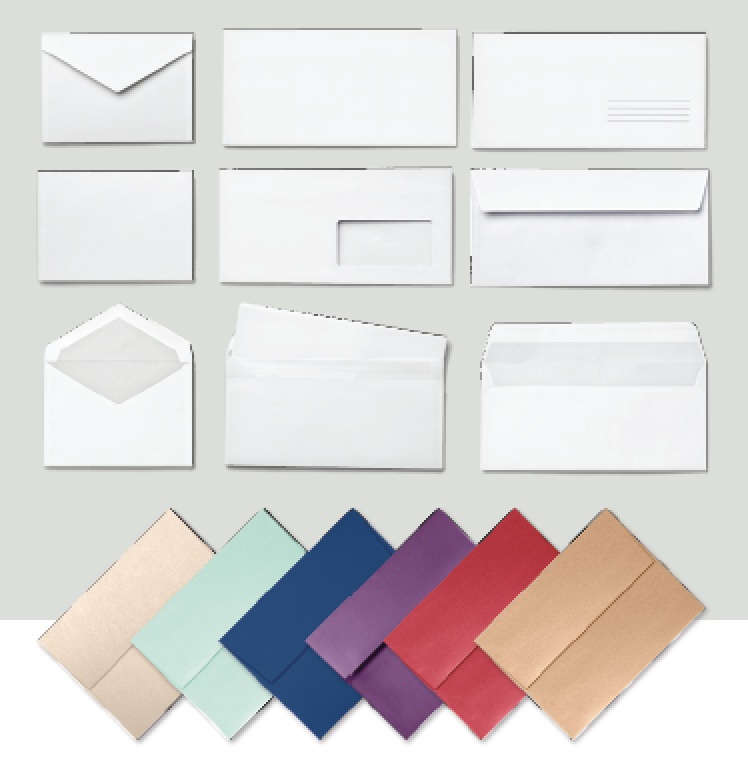 ---
---